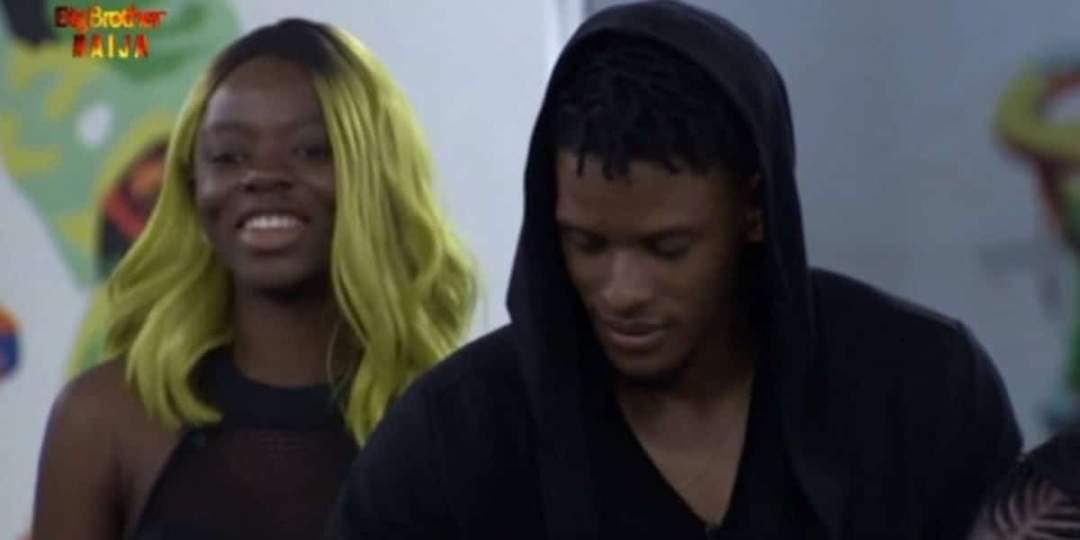 Big Brother Naija, BBNaija housemate Diane recently has developed likeness and closeness for fellow housemate Elozonam.
Both housemates have been seen severally having private personal conversations and being together in the past few days.
On Monday night after a little argument over eviction this week, Elozonam and Diane were seen on the same bed after lights out whispering to each other.
Although their relationship and love interest has not been declared officially like that of lovebirds 'Gedoni and Khafi' and 'Ike and Mercy,' there are obvious signs.
Some Nigerians and BBNaija fans on social media have noticed a brewing romance and relationship set to happen between both housemates soon.
We reported that Diane alongside six Big Brother Naija, BBNaija housemates, Mike, Seyi, Mercy, , Frodd, Jackie and Gedoni were selected for possible eviction this week.
The housemates were nominated after 'Cruistopia team' were defeated during the arena game challenge.
Elozonam, who won the veto power on Sunday saved Venita not Diane and replaced him with Frodd from her team, 'Cruistopia' rather than Diane his closest friend which has stirred reactions online.
Here are some comments gathered from Twitter:
@Nash_Cee "Elo and Diane are having relationship problems whilist they are not in a relationship."
@Funkysteve7 "Love is blind that is why Elozonam did not see Diane to save."
@Amina_rx "I'm voting Diane because I want to see more slow burn secondary love between her and Elozonam."
@Fabiantrue "What ever Elozonam and Diane have or feel for each other looks so real like i never digged any BBN ship especially this season but this right here melts my heart ."
@Ulasielizabeth "To be honest Elozonam he saved Diane then he's not okay. People need to be taught what loyalty is all about. Elo likes Diane but she took him for a fool. So let her see how it feels."
@FannyMvula1 "Is that Diane and Elo in bed, at this point i have no say let me go throw in some votes."
@zionmariam "Elozonam is smart and calculative, it's all about the #60m not Diane."
@OsejiAda "This Elozonam and Diane love reminds me of my 100 level days. it's so cute and confusing altogether."
@Queenannabel01 "This kind love is soo peaceful. Elo and Diane ."
@TeamDiane "This people can't stay away from each other sha Diane and Elo in bed."
@Edyspearles2 "I said it o. Their fight was not about veto power. Elozonam and Diane are having a slow sail towards love. They'll find the balance eventually."
@Jnrvalent "Diane is pained because Elozonam didn't save her. Karma is a bitch girl and it came at you quick, you had the chance to save him but you refused and now you expect him to save you? You must be kidding, we keep same energy."
@Ohloowatoscene "I think it's safe to say the save and replace thing is moving things to another level between Elo and Diane."