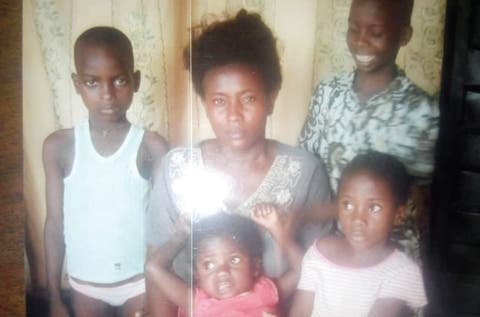 Queen and her children
A commercial motorcyclist (popularly known as okada rider), Mr Christopher Akarewan, was shot and killed by a police team in Okitipupa Local Government Area of Ondo State in October 2011 after refusing to give them N50 at a checkpoint. A Federal High Court's judgment in Akure awarded N7.9m in damages against the Nigeria Police Force, to be given to the deceased's widow, Queen, 35. Over one year after the judgment, nothing has been paid to Akarewan's family. His widow, who is still seeking justice and assistance, speaks with PETER DADA about life after the death of her husband
What do you do for a living?
I am a trader. I sell fish at Okitipupa area.
Your husband was killed by a police team n 2011 for refusing to give them N50; how would you describe him?
My husband (the late Christopher Akarawan) was a loving, caring and good husband and father to me and my children respectively. He took care of me and my children; he never joked with our welfare and the payment of our children's school fees. He paid their schools fees as and when due and provided for his family's needs in general.
He was killed by some policemen because he did not give them N50 along UBA Bank Road at Okitipupa in 2011.
It must have been tough.
On that fateful day, my husband was with his sister, Mrs Beatrice Ogugo. They were on his motorcycle; they were stopped along UBA Bank Road, Okitipupa by a police team which requested for N50. He said he did not have N50 and he gave them the only N30 on him but the policemen refused to accept the money from him. At that point, they wanted to collect his motorcycle but he didn't allow them to take it. As they were struggling to take the motorcycle from him, suddenly, one of them shot him and he died on the spot. No, I don't know the particular police officer that killed him but I learnt he was arrested and charged to court.
How has the family been coping since he died?
The family of the late Christopher Akarewan has been in sorrowful mood since he left us. It has not been easy for us at all. In fact, paying our children's school fees has been difficult for me. His mother also died of hunger. Everyone in the family has been affected by his death. My late husband was the breadwinner of the family. Since he died, I've been the only one going up and down to ensure that the family survives. It has been tough for the family.
There is no one to take care of me and my children, and they have been withdrawn from school due to my inability to pay their school fees, even till now. The little money I had made from my business has been spent on the children's school fees. I want Nigerians to assist me.




It was learnt that the matter was taken to court and the court ordered the police to pay you N7.9m, but the police did not obey the judgment; what do you think about that?
That is why I am appealing to the government, great people of this country and other stakeholders to please help call on the Nigeria Police Force to comply with the judgment delivered by the Federal High Court in 2018, so that things might be better for me and my family.
How many children do you have?
We have four children. Before he died, he was a commercial motorcyclist. He sometimes dealt in oil palm. It was from the proceeds that he cared for me and my children. He did not for once involve himself in any crime